StepLock Piston Seals
These seals are designed for 7,000 psi (480 bar) working pressure and pressure spikes to 20,000 psi (1380 bar). Our seals were developed for excavator attachment cylinders when no existing seal would meet our 1 year, 2,000 hour, minimum performance requirement. This patented ( US Patent 5,934,685) design has more than double the life compared to any other seal tested.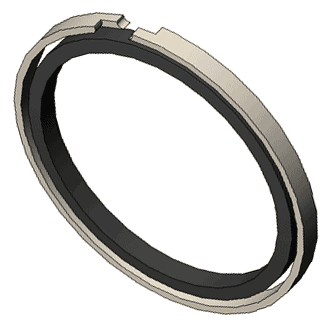 Features
* Our piston ring is machined from moisture stabilized bearing grade Acetal.
* Steps of the piston ring are wider than the ring and fit tight in the groove, for excellent low pressure sealing.
* Expander and piston ring fill the groove volume by over 90% to eliminate explosive decompression of the expander ring when dropping from maximum pressure quickly.
Design & Patent Information
For design information click here.
For patent information click here.
To view the patent information in a print-friendly PDF click here.
Application Information
We recommend using carbon steel for the pistons such as C1040, C1045, 8620, 4140 and 4150. It is best to have a wear ring on each side of the piston seal with about .001" clearance per inch of bore diameter. A 4" bore cylinder should have .004" to .006" wear ring clearance, and a 5" bore should have .005" to .007" clearance. Using a step cut wear ring, or a lap cut wear ring, as the guide bearing will improve seal life when subjected to high pressure spikes. There should be about .002" per inch of bore size clearance at the land by the piston ring, which is about .050" wide. This reduces seal extrusion and doesn't damage the barrel. There can be more barrel clearance along the rest of the piston length.
Diagram of piston land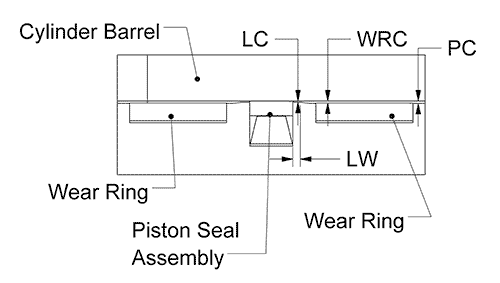 LC is land clearance
LW is land width
WRC is wear ring clearance
PC is piston clearance
Quick Ship Sizes
The quick ship sizes listed below are usually in stock, and can ship the same day if ordered before 2:00 pm Pacific time. The short lead time items are made to order and will take 1 to 2 weeks to manufacture.
| Seal Part No. | Bore | Groove Width | Groove Diameter |
| --- | --- | --- | --- |
| SL0000 | 3.525/3.528 | .280/.282 | 2.967/2.969 |
| SL0015 | 3.500/3.503 | .280/.282 | 2.942/2.944 |
| SL0017 | 4.00/4.003 | .280/.282 | 3.442/3.444 |
| SL0003 | 4.025/4.028 | .280/.282 | 3.467/3.469 |
| SL0053 | 4.525/4.528 | .282/.284 | 3.874/3.876 |
| SL0019 | 5.000/5.003 | .280/.282 | 4.442/4.444 |
| SL0009 | 5.025/5.028 | .280/.282 | 4.467/4.469 |
| SL0043 | 5.025/5.028 | .376/.378 | 4.258/4.260 |
| SL0065 | 5.500/5.503 | .378/.379 | 4.726/4.728 |
| SL0061 | 5.525/5.528 | .378/.379 | 4.751/4.753 |
| SL0021 | 6.000/6.003 | .378/.379 | 5.228/5.226 |
| SL0012 | 6.025/6.028 | .378/.380 | 5.251/5.253 |
| SL0083 | 7.000/7.003 | .378/.380 | 6.226/6.228 |
| SL0070 | 7.000/7.003 | .629/.631 | 6.095/6.097 |
| SL0086 | 7.025/7.028 | .378/.380 | 6.251/6.253 |
| SL0066 | 7.025/7.028 | .629/.631 | 6.095/6.097 |
| SL0076 | 8.000/8.003 | .378/.380 | 7.226/7.228 |
| SL0058 | 9.000/9.003 | .378/.380 | 8.110/8.114 |
Short Lead Time Sizes
| Seal Part No. | Bore | Groove Width | Groove Diameter |
| --- | --- | --- | --- |
| SL0028 | 3.500-3.503 | .579/.581 | 3.020-3.022 |
| SL0031 | 3.525-3.528 | .579-.581 | 3.045/3.047 |
| SL0023 | 4.000-4.003 | .579-.581 | 3.520-3.522 |
| SL0026 | 4.025-4.028 | .579-.581 | 3.545-3.547 |
| SL0006 | 4.525-4.528 | .280/.282 | 3.967/3.969 |
| SL0033 | 8.040-8.043 | .750-.752 | 7.312-7.314 |