Weld-on Ports & Fittings
We machine round, square, and hex steel weld on ports and fittings for hydraulic system plumbing from C1018 or 8620 bar for best in class weldability. For off highway equipment plumbing with flows from 10 to 70 GPM with working pressures to 6,000 PSI we recommend using 1/2" to 1" Seamless Schedule 80 pipe.
Hydraulic cylinder porting components include:
End of tube ports include:
Weld procedures
To insure a good weld quality grind clean the weld joint area. For pipes or tubes a weld chamfer may need prepared. Check for fit and limit gaps to reduce distortion and slag contamination. Tack the parts in place and preheat to 100°F / 38°C minimum to 200°F / 93°C. Weld with an E70 or E80 filler material. Small multi-pass welds will reduce distortion on cylinder barrel welds. Clean slag and spatter from both sides of the weld area and wash before putting into service. If you have a weld leak it may require using 6010 or 6011 stick welding to seal off the oil.
Weld on Fittings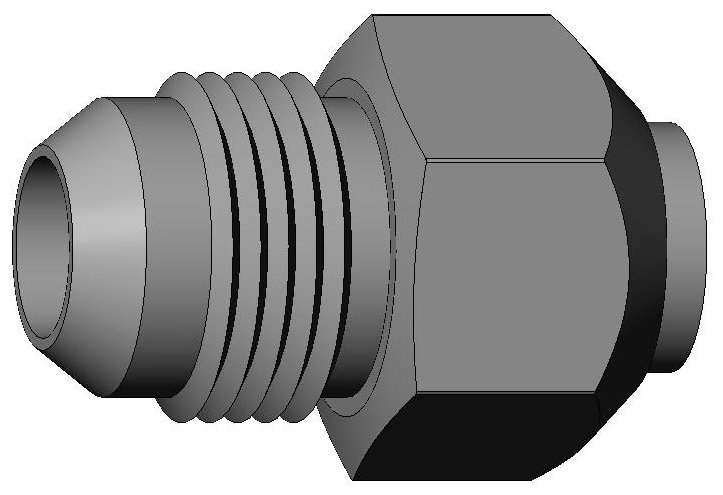 Male JIC with Straight Through Port

| Part No. | Style | A | B | C - Dia. | D - thread | E - Dia. | F |
| --- | --- | --- | --- | --- | --- | --- | --- |
| DPWJ06 | #6 JIC | 1.2" | 1.08" | 0.42" | 9/16 - 18 | 0.30" | 3/4" |
| DPWJ08 | #8 JIC | 1.41" | 1.30" | 0.54" | 3/4 - 16 | 0.39" | 7/8" |
| DPWJ10 | #10 JIC | 1.50" | 1.45" | 0.54" | 7/8 - 14 | 0.47" | 1" |
| DPWJ12 | #12 JIC | 1.81" | 1.69" | 0.74" | 1-1/16 - 12 | 0.59" | 1-1/4" |
| DPWJ16 | #16 JIC | 2.03" | 1.78" | 0.91" | 1-5/16 - 12 | 0.83" | 1-1/2" |
| DPWJ20 | #20 JIC | 2.09" | 1.84" | 1.28" | 1-5/8 - 12 | 1.09" | 1-7/8 |
Click here to go back to the top
Weld on Threaded O-Ring Ports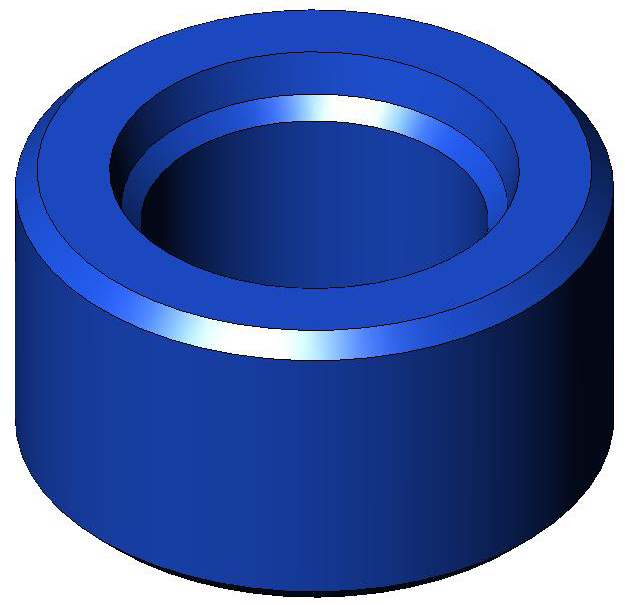 Round Female SAE O-Ring with Straight Through Port

| Part No. | Description | A - Dia. | B | C - Dia. | D - Thread |
| --- | --- | --- | --- | --- | --- |
| DPWT04 | #4 SAE | 3/4" | 0.6" | 0.391 | 7/16 - 20 |
| DPWT06 | #6 SAE | 1" | 0.7" | 0.516 | 9/16 - 18 |
| DPWT08 | #8 SAE | 1-/4" | 0.85" | 0.688 | 3/4 - 16 |
| DPWT10 | #10 SAE | 1-3/8" | 0.75" | 0.8 | 7/8 - 14 |
| DPWT12 | #12 SAE | 1-5/8" | 1.05" | 0.974 | 1-1/16 - 12 |
| DPWT16 | #16 SAE | 1-15/16" | 1.125" | 1.224 | 1-5/16 - 12 |
| DPWT20 | #20 SAE | 2-3/8" | 1.125" | 1.538 | 1-5/8 - 12 |
| DPWT24 | #24 SAE | 2-5/8" | 1.125" | 1.788 | 1-7/8 - 12 |
Click here to go back to the top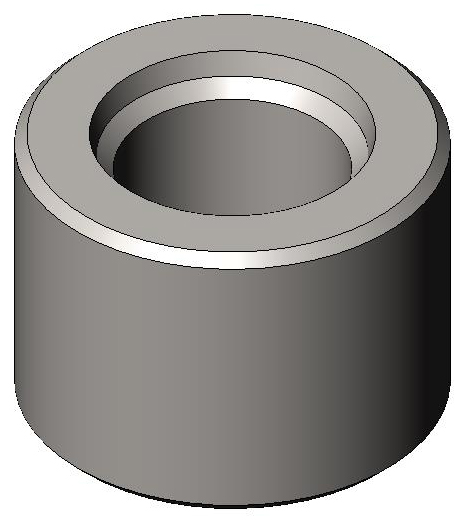 Round BSPP with Straight Through Port
| Part No. | Description |
| --- | --- |
| DPWT37 | #4 "G" Style 1/4" BSPP Type O-Ring Port |
| DPWT38 | #6 "G" Style 3/8" BSPP Type O-Ring Port |
| DPWT39 | #8 "G" Style 1/2" BSPP Type O-Ring Port |
| DPWT40 | #12 "G" Style 3/4" BSPP Type O-Ring Port |
| DPWT41 | #16 "G" Style 1" BSPP Type O-Ring Port |
| DPWT42 | #20 "G" Style 1-1/4" BSPP Type O-Ring Port |
Click here to go back to the top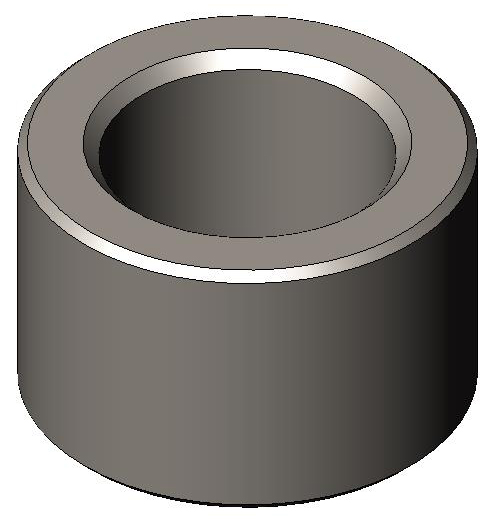 | Part No. | Description |
| --- | --- |
| DPWT43 | #20 "G" Style BSPP for Seal Washers |
Click here to go back to the top
Straight Weld on Port Blocks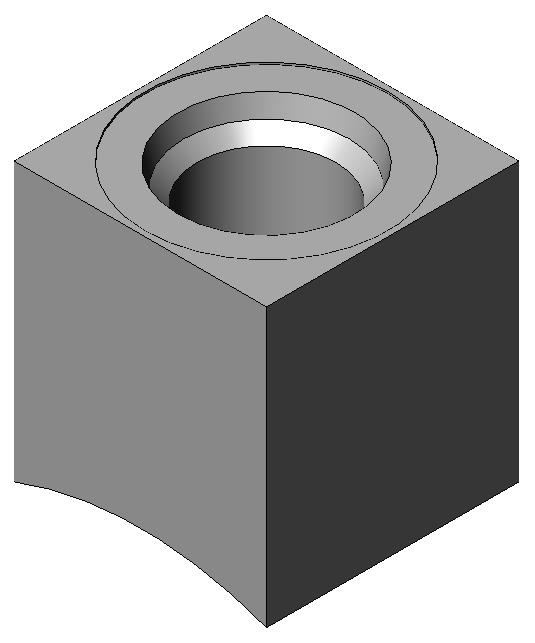 Square Female SAE O-Ring with Straight Through Port

| Part No. | Description | A | B | C - Dia. | D - Thread |
| --- | --- | --- | --- | --- | --- |
| DPWS04 | #4 SAE | 2" | 2.305" | 5-3/4" | 7/16 - 20 |
| DPWS06 | #6 SAE | 1" | 1.104" | 3" | 9/16 - 18 |
| DPWS08 | #8 SAE | 1-1/4" | 1.375" | 3-1/2" | 3/4 - 16 |
| DPWS10 | #10 SAE | 1-3/4" | 1.090" | 4-1/2" | 7/8 - 14 |
| DPWS12 | #12 SAE | 1-3/4" | 2.011" | 5-3/4" | 1-1/16 - 12 |
| DPWS16 | #16 SAE | 2" | 2.305" | 5-3/4" | 1-5/16 - 12 |
| DPWS20 | #20 SAE | 2-1/2" | 2.411" | 5-3/4" | 1-5/8 - 12 |
Click here to go back to the top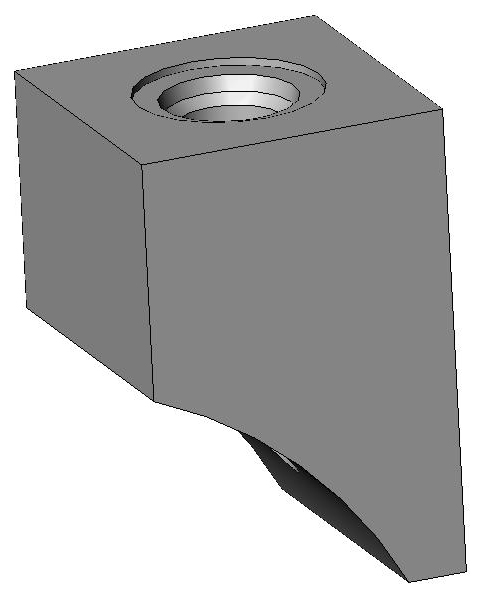 Square Female SAE O-Ring with Straight Through Port with Butt Port Fit
| Part No. | Description | A | B | D - Thread |
| --- | --- | --- | --- | --- |
| DPWS24 | #4 SAE | 7/8" | 1-1/2" | 7/16 - 20 |
| DPWS26 | #6 SAE | 2" | 3" | 9/16 - 18 |
| DPWS28 | #8 SAE | 2" | 3" | 3/4 - 16 |
| DPWS30 | #10 SAE | 2" | 3" | 7/8 - 14 |
| DPWS32 | #12 SAE | 2" | 3" | 1-1/16 - 12 |
| DPWS36 | #16 SAE | 2" | 3" | 1-5/16 - 12 |
| DPWS40 | #20 SAE | 2-1/2" | 3" | 1-5/8 - 12 |
Click here to go back to the top
90° Weld On O-Ring Ports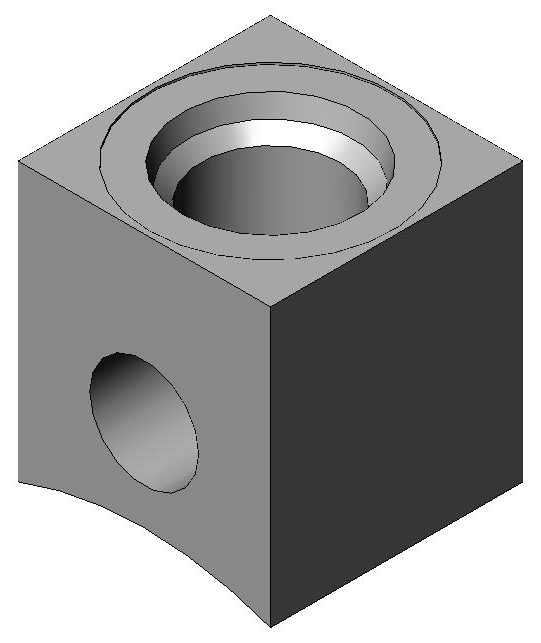 Square Female SAE O-Ring Port 90° to Barrel with Passage Parallel to Barrel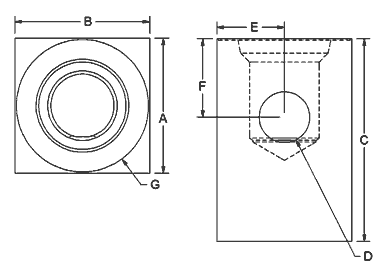 (A and B are equal)
| Part No. | Description | A | C | D | E | F | G - Thread |
| --- | --- | --- | --- | --- | --- | --- | --- |
| DPW904 | #4 SAE | 2" | 3" | 3/4" | 1" | 1" | 7/16 - 20 |
| DPW906 | #6 SAE | 1" | 1-1/2" | 3/8" | 1/2" | .58" | 9/16 - 18 |
| DPW908 | #8 SAE | 1-1/4" | 2" | .54" | 5/8" | .81" | 3/4 - 16 |
| DPW910 | #10 SAE | 1-3/4" | 3" | 3/4" | 7/8" | 1" | 7/8 - 14 |
| DPW912 | #12 SAE | 1-3/4" | 2" | 3/4" | 7/8" | 1" | 1-1/16 - 12 |
| DPW916 | #16 SAE | 2" | 3" | 7/8" | 1" | 1.2" | 1-5/16 - 12 |
| DPW920 | #20 SAE | 2-1/2" | 3" | 3/4" | 1-1/4" | 1" | 1-5/8 - 12 |
Click here to go back to the top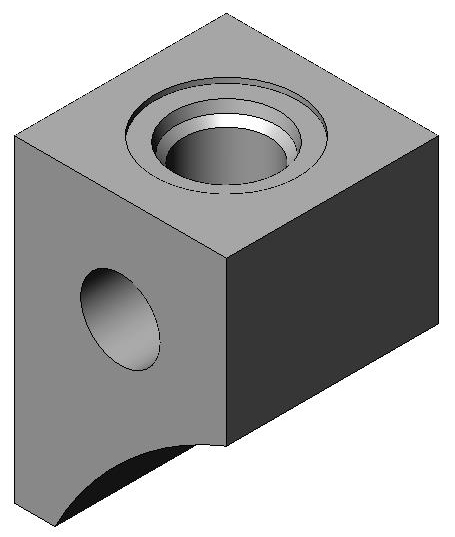 Square Female SAE O-Ring Port 90° to Barrel with Passage Parallel to Barrel - Flat to Top of Barellel
(A and B are equal)
| Part No. | Description | A | C | D | E | F | G - Thread |
| --- | --- | --- | --- | --- | --- | --- | --- |
| DPW924 | #4 SAE | 2" | 3" | 3/4" | 1" | 1" | 7/16 - 20 |
| DPW926 | #6 SAE | 2" | 3" | 3/4" | 1" | 1" | 9/16 - 18 |
| DPW928 | #8 SAE | 2" | 3" | 3/4" | 1" | 1" | 3/4 - 16 |
| DPW930 | #10 SAE | 2" | 3" | 3/4" | 1" | 1" | 7/8 - 14 |
| DPW933 | #12 SAE | 2" | 3" | 3/4" | 1" | 1" | 1-1/16 - 12 |
| DPW936 | #16 SAE | 2" | 3" | 3/4" | 1" | 1" | 1-5/16 - 12 |
| DPW940 | #20 SAE | 2-1/2" | 3" | 3/4" | 1-1/4" | 1" | 1-5/8 - 12 |
Click here to go back to the top
90° Weld On Tube Port Offset Flat Top
(A and B are equal)
| Part No. | Description | A | C | D | E | F | G - Thread |
| --- | --- | --- | --- | --- | --- | --- | --- |
| DPW932 | #12 SAE | 2" | 2-3/4" | 3/4" | 3/4" | 1.1" | 1-1/16 - 12 |
Click here to go back to the top
Square female SAE O-Ring port parallel to barrel with passage 90° to barrel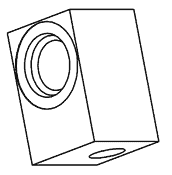 (A and B are equal)
| Part No. | Descrip. | A | C | D | E | F | H - Thread |
| --- | --- | --- | --- | --- | --- | --- | --- |
| DPW946 | #6 SAE | 1" | 1-1/2" | 1/2" | 1/2" | .65" | 9/16 - 18 |
| DPW941 | #8 SAE | 1-1/4" | 1-7/8" | 5/8" | 5/8" | .85" | 3/4 - 16 |
| DPW942 | #10 SAE | 1-1/4" | 1-7/8" | 5/8" | 5/8" | 3/4" | 7/8 - 14 |
| DPW952 | #12 SAE | 1-3/4" | 2" | 7/8" | 3/4" | 1-1/8" | 1-1/16 - 12 |
| DPW956 | #16 SAE | 2" | 2-1/4" | 1" | .85" | 1-1/4" | 1-5/16 - 12 |
Click here to go back to the top
Female O-Ring to Tube & Pipe Thread Weld on Ports
| Part No. | Description |
| --- | --- |
| DPWP08 | 1/2" NPT Female |
Click here to go back to the top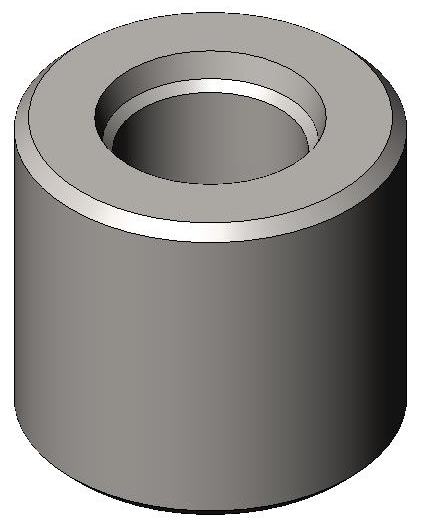 Female SAE O-Ring straight to OD of pipe, Round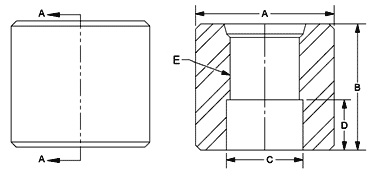 | Part No. | Descrip. | Tube OD | A - Dia. | B | C - Dia. | D | E - Thread |
| --- | --- | --- | --- | --- | --- | --- | --- |
| DPWP14 | #8 SAE | 3/4" | 1-3/8" | 1-1/4" | 3/4" | 1/2" | 3/4 - 16 |
| DPWP21 | #12 SAE | 7/8" | 1-5/8" | 1-1/2" | 7/8" | 5/8" | 1-1/16 - 12 |
| DPWP22 | #12 SAE | 1" | 1-5/8" | 1-1/2" | 1" | 5/8" | 1-1/16 - 12 |
| DPWP23 | #12 SAE | 3/4" | 1-5/8" | 1.532" | 3/4" | 5/8" | 1-1/16 - 12 |
| DPWP31 | #16 SAE | 1.385" | 2" | 1-3/4" | 1.385" | 3/4" | 1-5/16 - 12 |
| DPWP32 | #16 SAE | 1-1/16" | 2" | 1.907" | 1-1/16" | 3/4" | 1-5/16 - 12 |
| DPWP33 | #16 SAE | 1-1/4" | 2" | 1-3/4" | 1-1/4" | 3/4" | 1-5/16 - 12 |
| DPWP34 | #16 SAE | 1" | 2" | 1-3/4" | 1" | 3/4" | 1-5/16 - 12 |
| DPWP40 | #20 SAE | 1-3/4" | 2-3/8" | 1-7/8" | 1-3/4" | 7/8" | 1-5/8 - 12 |
| DPWP41 | #20 SAE | 1-1/4" | 2-3/8" | 1-7/8" | 1-1/4" | 7/8" | 1-5/8 - 12 |
Click here to go back to the top
Female SAE O-Ring with 90° passage for pipe OD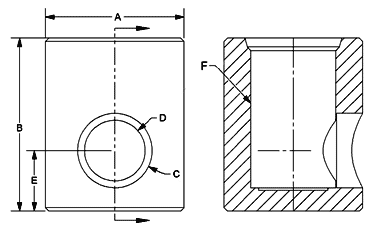 Part No.
Description
A - Dia.
B
C - Dia.
D - Dia.
E
F - Thread
DPWP07
#6 SAE for 3/8" Pipe Weld Fitting
1"
1.025"
11/16"
.39"
.45"
9/16 - 18
DPWP35
#16 SAE for 1-1/16" OD Tube
2"
2-1/2"
1.075"
7/8"
7/8"
1-5/16 - 12
DPWP36
#16 SAE for 1-1/4" OD Tube
2"
2-1/2"
1.260"
1"
1"
1-5/16 - 12
DPWP37
#16 SAE for 1-1/4" OD Tube x #6 Guage Port
2-1/2"
2-1/8"
#6 O-Ring
1-1/8"
1-5/16 - 12
DPWP43
#20 SAE for 1-3/4" OD Tube x #6 Guage Port
2-3/4"
2-1/4"
#6 O-Ring
1-1/8"
1-5/8 - 12
Click here to go back to the top
U-Flow Weld on Ports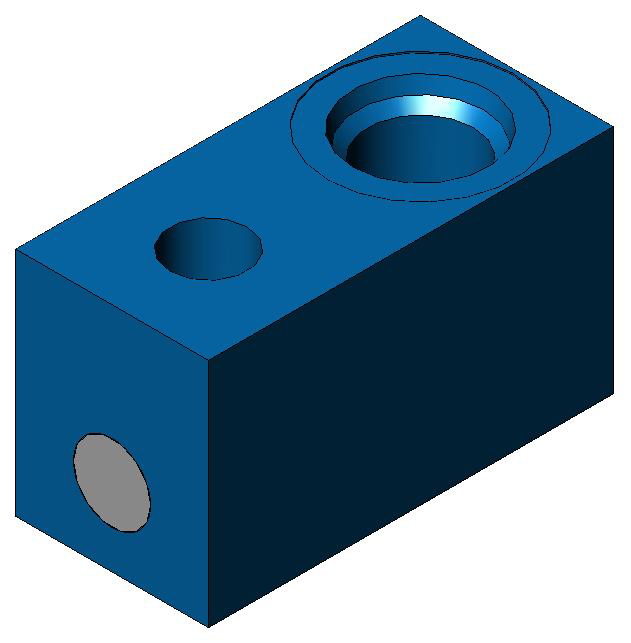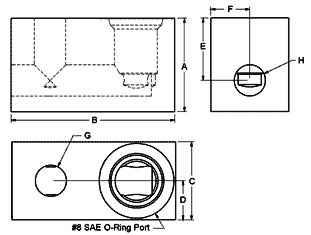 | Part No. | Descrip. | A | B | C | D | E | F | G - Dia. | H - Dia. |
| --- | --- | --- | --- | --- | --- | --- | --- | --- | --- |
| DPWU08 | #8 SAE | 1-1/2" | 2-5/8" | 1-1/4" | 5/8" | 1" | 5/8" | 1/2" | 1/2" |
Click here to go back to the top
U-Flow Rectangular Port
Part No.
A
B
C
D
E
F
G - Dia.
H - Dia.
I
J
DPWF57
1-1/2"
2-3/4"
4.62"
1-3/8"
2.062"
1.031"
7/8"
1-3/8"
7/8"
.4"
#16 4 Bolt Flange, Flat, M10 x 1.5 U-Flow Code 61
Click here to go back to the top
Flat Faced O-Ring & Flanged Ports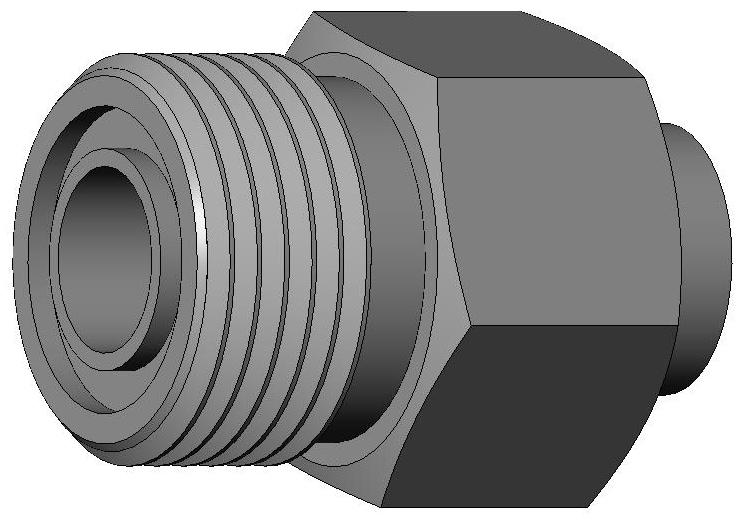 Male Flat Face O-Ring to ID of schedule 80 pipe with wrench hex

| Part No. | Style | A | B | C - Dia. | D - Thread | E - Dia. | F |
| --- | --- | --- | --- | --- | --- | --- | --- |
| DPWF04 | #4 MFOR to 1/4" Pipe | | | | 9/16 - 18 | | |
| DPWF06 | #6 MFOR to 3/8" Pipe | | | | 11/16 - 16 | | |
| DPWF08 | #8 MFOR to 1/2" Pipe | 1.27" | 1.12" | 0.535" | 13/16 - 16 | 0.37" | 7/8" |
| DPWF10 | #10 MFOR to 5/8" Pipe | | | | 1 - 14 | | |
| DPWF12 | #12 MFOR to 3/4" Pipe | 1.7" | 1.55" | 0.736" | 1-3/16 - 12 | 0.61" | 1-1/4" |
| DPWF16 | #16 MFOR to 1" Pipe | 1.6" | 1.45" | 0.94" | 1-7/16 - 12 | 0.81" | 1-1/2" |
| DPWF20 | #20 MFOR to 1-1/4" Pipe | | | | 1-11/16 - 12 | | |
Click here to go back to the top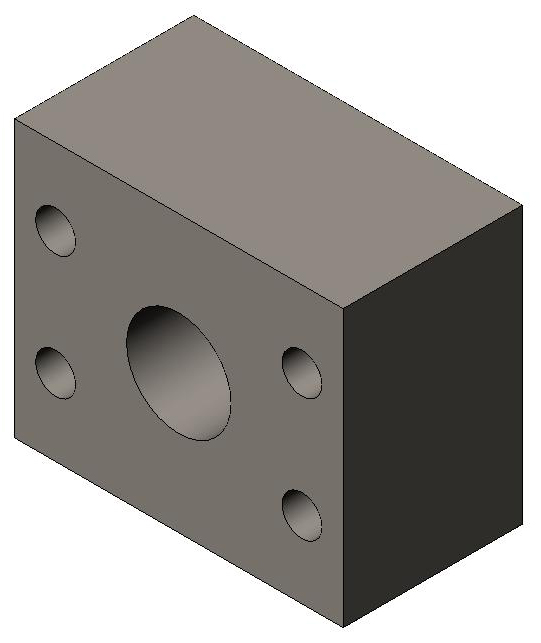 | Part No. | Description |
| --- | --- |
| DPWF25 | #16 Code 61 x 1" Pipe Female Straight |
| DPWF26 | #16 Code 61 Through Flow with #16 ORB Side Port |
| DPWF27 | #16 Code 62 Through Flow with #16 ORB Side Port |
| DPWF30 | #16 Code 61 for Cylinders with Tapped Holes |
| DPWF41 | #16 Code 61 4 Bolt Flange, Flat, M10x1.5 |
Click here to go back to the top
Pipe Weld On Coupler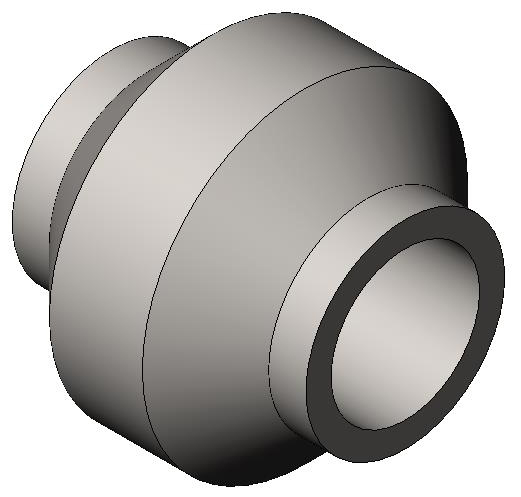 | Part No. | Description |
| --- | --- |
| DPWC04 | 1/4" Schedule 80 Pipe Weld Coupler |
| DPWC06 | 3/8" Schedule 80 Pipe Weld Coupler |
| DPWC08 | 1/2" Schedule 80 Pipe Weld Coupler |
| DPWC10 | 5/8" Schedule 80 Pipe Weld Coupler |
| DPWC12 | 3/4" Schedule 80 Pipe Weld Coupler |
| DPWC16 | 1" Schedule 80 Pipe Weld Coupler |
| DPWC20 | 1-1/4" Schedule 80 Pipe Weld Coupler |
| DPWC24 | 1-1/2" Schedule 80 Pipe Weld Coupler |
Click here to go back to the top